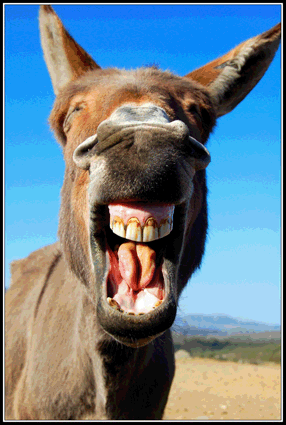 We thought it would be fun to have a page devoted to anything donkey related. It can be stories, poems, photos/drawings, little nuggets of tips and information. It can be amusing, serious, factual or fictitious in fact anything you think might be of interest to other "donkey people".
We would welcome as much input from our supporters and Facebook followers as possible, so please feel free to send your contributions to us but please remember this site is looked at by all ages.
We're looking forward to hearing from you!!
You will need the following items which can be purchased locally at any pharmacy or health store. Although initial outlay might be expensive, the ingredients will last for some years if kept closed tight and in dark place or alternatively you could share with friends.
– Squirt bottle
– 4 cups raw apple cider vinegar
- 15 drops rosemary essential oil
– 15 drops basil essential oil
- 15 drops Peppermint essential oil
- 15 drops repellent blend essential oil *
- 1 tablespoon dish soap (liquid soap will suffice)
*Oils such as Tea Tree, Citronella & Eucalyptus would be good
Combine ingredients together in the squirt bottle and gently shake to combine.
Shake bottle well before use as oils will have separated. Spray liberally over the body avoiding the eye and mouth areas. Use morning and late afternoon, more frequently if required.
Mixture is suitable for all animals but check first in case they are allergic to any of the ingredients.
Not always the first thing you would think of if you have a donkey but something they really enjoy. Courses are available on the subject but its something you can try yourself without fear of doing any damage!
IF AT ANY TIME YOUR DONKEY APPEARS TO BE UNCOMFORTABLE WITH WHAT YOU'RE DOING - STOP - WAIT A WHILE THEN TRY AGAIN. IF HE REMAINS UNPREPARED TO ACCEPT ANY OF THE MOVEMENTS - STOP. YOU CAN TRY AGAIN ANOTHER DAY.
Before You Start - relax and regulate your own breathing. Don't be tempted to rush, be calm and sensitive. Don't use force - if your donkey isn't prepared to accept any of the movements, move on and try again another time.
Step 1 Rest your hands over his nearside withers for approx. 10 secs. Lift and place further along his back. Start again at the shoulder and work to hips, then work down his hindquarters , repeat on offside. This will help to "connect" you to the donkey and give you an idea where he likes/dislikes being touched.
Step 2 Slow Body Sweep - smooth hands over body from poll to tail. Repeat on both sides. Again this helps "connection".
Step 3 Percussion - with wrists loose and using fingertips, tap down either side of spine to rump, repeat again. Using the flat of your hand this time repeat action 2 or 3 times on both sides.
Step 4 Crest Rock - hold crest in both hands then using fingertips rock gently to and fro. Repeat on other side.
Step 5 Roll donkey's top lip in the palm of your hand. Roll lower lip in same way.
Step 6 Gums - wet your index finger then gently slip it onto his gums under the top lip and rub very gently from side to side.
Step 7 Ear Rub - gently work the base of ear using thumb and first finger. Hold the head collar with other hand if you need to steady head. With thumb on inside of ear and fingers on outside, gently move hand upwards allowing fingers to cover each part of the ear up to tip. Pause awhile then gently rub ear tip between the thumb and index finger.
Step 8 Tail Glide - stand to one side of donkey. Take tail in your hands and gently pull hands down over the hair. If you feel safe and confident stand behind him and take hold of the dock and moving gently from side to side, then in a small circle clockwise and anticlockwise. If while you are attempting this he clamps his tail down, try tickling the side or underneath of dock until he relaxes. If tail continues to remain clamped down, leave and move on. Working down the tail by holding above and below each vertebra, gently wiggle the joints of tail from side to side then up and down all the way down to tip. To finish, hold dock with both hands and gently lean backwards DO NOT PULL and wait for the donkey to lean away from you, thus stretching his spine from poll to dock. Hold position for 30 secs, slowly and gradually release the pull.
Step 9 Final body sweep - Repeat step 2, ending by resting your hands firmly but gently on the withers for a few seconds.
Step 10 After a quiet moment or two, walk away.
This article has been amended from that previously printed in DBS Bray Talk.
SO, HOW TALL IS MY DONKEY?
All equines including donkeys are measured in "hands". This unit of measurement is unique and used worldwide. The story behind it is that when a certain king went to measure his favourite horse, there was only one thing available there he knew to be consistent and that, was his hand. This meant that anywhere he went he could measure a horse accurately.
Hence thereafter the term "hands high" was used and follows the number ie 13hh (thirteen hands high). Parts of the hand are given after the whole by using a decimal point.
For example 10.2hh means 10 hands plus 2 more inches therefore
(4 x 10 = 40 + 2 = 42 inches) and so on.
A hand measures 4 inches, and for all those hundreds of you using the more modern metres and centimetres its 2.5 cm.
Equines are measured from the withers (approximately where the centre of the cross is situated) to the floor.
/